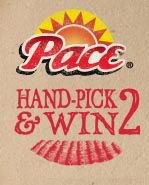 1 in 20 wins a free jar of Pace!


Entry: Daily
Expires: 7/31/10
Prize: 1 jar of Pace picante sauce or salsa awarded as a free coupon (129,000 to be given away)
Other notes: Each player can win up to 5 times. Coupon will be delivered by mail, unlike the last time this promotion ran.

Good luck!